AGL is a major electricity generator in Australia. Its shift to renewable energy is driven by the market and banking finance.
"AGL says no private investor would invest in new coal plant, but says battery storage is coming and will be major game changer as costs fall – which may not be far away."
No private money would support a new coal generator
Several days after formally rejecting federal government requests that it invest hundreds of millions of dollars to keep the ageing and increasingly decrepit Liddell coal generator open, AGL held an "investor day" where it said no private money would support a new coal generator.
"We do not believe that any private capital will invest in new coal plants," CEO Andrew Vesey told the assembled analysts. "Someone may say they want to, but that does not mean they will."
AGL over the weekend unveiled plans to replace Liddell, which include 653MW of wind farms, currently under construction, 300MW of new solar farms, a 250MW gas peaking plant, and small amounts of demand management.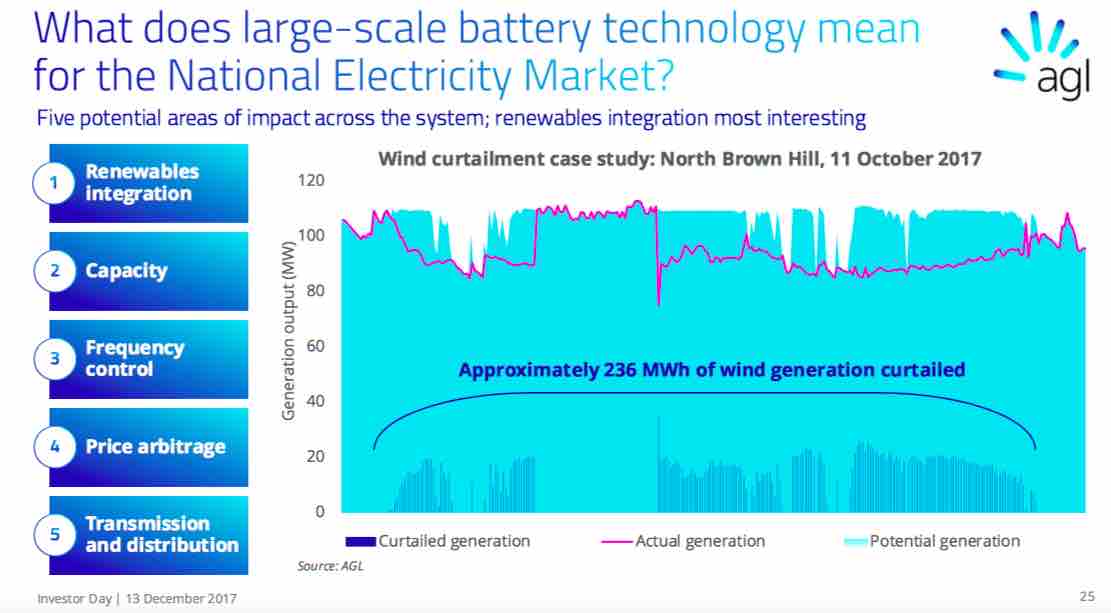 Significant change that would take place in energy markets
The later stages of the scheme – depending on what else happens in the market, and the make-up of energy policy – could see another 650MW of wind and solar, 250MW of battery storage, or pumped hydro, and possibly more gas peaking plants and more demand management.
The AGL plan made it clear to the government that the cheapest way to provide reliability, and reduce emissions, was to shift from coal to renewables, something the Coalition is finding hard to accept.
But Vesey's comments were unequivocal, and appeared deliberately aimed at the lingering push from many in the conservative arena to build a new coal-fired generator. "The government may say it wants to … but it is becoming an increasingly risky proposition."
Instead, AGL used the investor presentation to talk about the significant change that would take place in energy markets, driven by zero marginal cost generation such as solar and wind (and their falling capital costs), and the emergence of battery storage.
AGL noted that all current battery storage installations required the support of government funding (which is not quite true, but true enough of the Tesla big battery and the Wattle Point installation being built near AGL's wind farm of the same name on South Australia's Yorke Peninsula.)
AGL will operate the Wattle Point battery storage, mainly as a provider of grid services, with the ability to "island" or use local wind and solar supply to create a micro-grid, if there are major outages elsewhere.
Richard Wrightson, he is the head of wholesale markets at AGL, said the company had deliberately put battery storage at the "back end" of the plans to replace Liddell from 2022, because that is when they will become economic.
"They're not quite there yet, but they are coming," Wrightson said. He said the economics of battery storage would change, driven by the electric vehicle sector rather than the power industry. "That will change, and it will be a game changer," he said.
Quite right. We put the cross-over to cheaper renewables plus battery versus coal in the five years as well. It appears NAB agrees:
National Australia Bank will not finance new thermal coal mine developments
National Australia Bank will not finance new thermal coal mine developments under a policy that restricts lending to ­existing ­clients and projects that are ­already operating.
In a hardening of policy at the country's leading business bank, NAB is set to announce that it will only reconsider if carbon ­reduction technologies such as carbon capture and storage prove commercially viable.
But the policy, to be unveiled by chairman Ken Henry at the annual shareholders meeting ­tomorrow, will leave open the prospect of financing coal-fired generation in a move the bank says recognises the fuel's continuing role in Australia's energy mix.
NAB's head of corporate and institutional banking, Mike Baird, said the bank was not walking away from an industry that was a major contributor to the NSW economy and would continue to support clients who wanted to buy or expand existing mines.
"We believe that coal will be a big part of the energy mix for decades to come,'' Mr Baird, the former NSW premier, told The Australian. "But without emerging technologies that aren't commercial being commercialised then greenfields thermal (coal mines) is something that we won't be doing."
Source: https://www.macrobusiness.com.au/2017/12/agl-nab-coal-dead/